Seeking Best Audio Editor for Android? Free of cost. Well, there are lots of free Audio Editor in the market but the problem is to select the best editor because most of the editor is making us fool by providing very poor functionality. We need to stay away from those apps and should go for the best one. Little confused about selecting the best one? Don't worry, we are here to help you to choose the best Audio Editor for Android.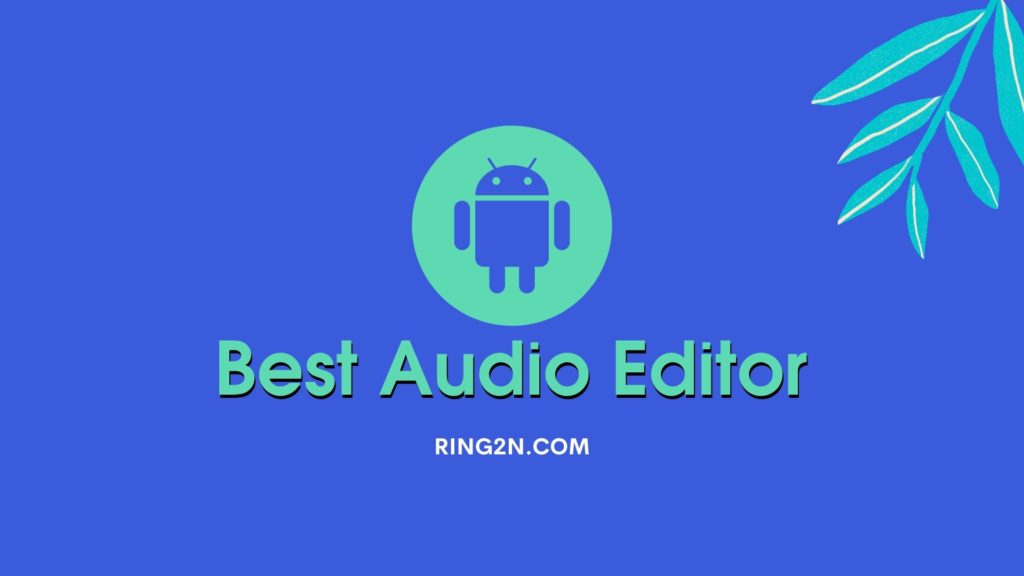 Best Audio Editor for Android:
If you are here then you really need to know the best choice between Audio editors for Android. In the below section you will get the top 6 Audio Editor. In the below list we have added awesome Audio Editor for Android smartphones:
These May help you more:
The main features:
–
Trim Audio: Crop a part of the audio as a ringtone, alarm, and notification tone.
Merge Audio: Connect multiple audio files into one.
Convert Audio: Change one music format to another, such as AAC to MP3, M4A to MP3, MP3 to WAV, and so on.
My Creations: All processed audio files will be displayed here, you can re-edit, delete, or share them.
Mix Audio: You can mix two music into one, and you can also adjust the volume level of the music.
Compress Audio: You can compress audio by changing the channel, sample rate, and bit rate.
Tag Editor: You can change metadata of audio, such as title, album, composer, year, and cover.
Split Audio: If you need to split audio into two parts, you can use this feature.
Reverse Audio: Reverse the audio and plays it in reverse.
Speed ​​Editor: Edit audio speed, fast forward, slow down.
Remove Part: Remove a part of the audio.
Mute Part: Part of the audio can be muted.
Volume Booster:You can change the volume level of audio.
---
02: WaveEditor for Android™ Audio Recorder & Editor by Sound-Base Audio, LLC:
The main features:
Multi-Track mixing and editing
• WAV or MP3 recording formats
• Visual tools (FFT, oscilloscope, spectrogram)
• Supported import formats: 3gp, aac, aif, aifc, aiff, alac, amr, au, caf, flac, htk, iff, m4a, mat4, mat5, mp3, mp4, ogg, paf, pcm, pvf, raw, sd2, sf, snd, svx, voc, w64, wav, xi
• Supported export formats: aiff, flac, mp3, ogg, pcm, wav
• Standalone and in-editor audio recorders
• USB Microphone support (More info: https://sbaud.io/wavstudio-usb-microphone-support/)
• Built-in file browser for loading and saving files
• 32-bit floating-point signal processing
• Single sample editing
• Zooming, panning, and selection functions
• Macro processes such as fade, reverse, & invert
• Amplitude meter
• Undo/redo & copy/paste features
• Compact view setting for smaller devices
• Alternative waveform colors for better stereo visualization
• Separate audio format conversion utility
• Auto pitch tune effect
• Recorder widget
---
The main features:
The Voice Recorder makes it possible to:
Record in more than 100 formats
Insert in real-time a background using any file already present in your device. You can also download –free of charge– new ones from a library online.
Insert tag to help you select, during the playback, the most interesting parts of your records.
Use the Earphone to control the effect of the background during recording.
Record in the background and at the same time utilize the device for other services.
Visualize record info such as length, sample rate, dimensions, channels.
Operate the playback both with an internal and external player.
Restore the records and complete them.
Mix or merge any record in all formats.
Handle the preferred ones, share them, add notes, and tag and research the files.
Convert to many formats (mp3, WAV, FLAC, Ogg)
Remove vocals, Handle the GAIN, the TIME, the RUMORS, and the REVERB – an example of the remarkable possibilities of applicable effects.
Note -> Vocal Remover – Removes the Vocal portion or reduces the volume of vocal in the musical track & it depends on the audio file which you try. We recommend you to try with Music Tracks that have balanced music and Vocal sounds so that the app can identify & filter Vocals.
---
04. FL Studio Mobile by Image-Line:
The main features:
High-quality synthesizers, sampler, drum kits & sliced-loop beats
• Wide range of Effects include to enhance your mix (see below)
• Step sequencer for fast percussion programming
• Configurable virtual piano-keyboard & Drum Pads
• Class-compliant MIDI controller support. Play instruments and link to knobs/sliders
• MIDI file import and Export (Single-track or Multi-track)
• Audio recording, track-length stem/wav import
• Mixer: Per-track mute, solo, effect bus, pan and volume adjustment
• Piano roll editor to enter notes & chords or to edit recorded performances
• Intuitive screen layout is configurable to work with all screen resolutions and sizes.
• Save and load your songs, export to WAV, MP3 & FLAC
• Load your projects in the FL STUDIO Plugin Version of this App#
• WiFi share projects with other FL Studio Mobile Android, iOS, and Windows Apps.
• Full-screen DeX & Chromebook support.
---
05. Lexis Audio Editor by pamsys:
The main features:
The trial version has all the features of the paid version including options to save in WAV, m4a, aac, FLAC, and WMA format. Saving in mp3 format is available only in the paid version.
Recorder and player
Cut, copy and paste
Delete, insert silence, trim, fade in, fade out
Normalizing, noise reduction
Record into an existing file, import file into an existing file
Mixes the current file with another file
10 band equalizer
Compressor
Change Tempo, Speed, Pitch
Audio formats: mp3 (-320kb/s), WAV (16 Bit PCM), FLAC, m4a, aac and WMA, video import: mp4, 3gp, 3g2
Remark: You need enough free memory on your first sd-card to edit sound files. For 10min 48k stereo sound we recommend at least 500MB free memory.
---
The main features:
• Multitrack audio recording/playback
• MIDI sequencing
• Drum pattern editor
• Low latency with a USB audio interface (*)
• Non-linear non-destructive editing with move, trim, split, cut/copy/paste, remove, cross-fade and range editing
• Virtual instruments based on SoundFonts
• Loop playback
• Automation of all mixer and effect parameters
• Latency correction
• Import of WAV, MP3, AIFF, FLAC, Ogg/Vorbis audio files (m4a and others when running Android 4.1 or higher)
• Mastering (mixdown) to stereo WAV, AIFF, FLAC or OGG file
• Software monitoring for USB audio devices and some Android devices that have low enough latency
• Sample rate conversion
• Metronome
• Punch in/out
• Zoom down to the sample
• Each track has controls for volume, panning, mute, solo, arm, 3-band EQ with mid-sweep, 3 insert effects, 2 effect sends and output bus selection
• Unlimited number of tracks (*)
• Unlimited number of groups (*)
• Real-time effects including: chorus, compressor, delay, dual delay, reverse delay, reverb, flanger, noise gate and many more!
• Offline effects: fade in/out, normalize, reverse, pitch shift, time stretching while maintaining pitch
• Unlimited undo/redo for editing facilities
• Grid options for aligning your samples (with tempo and time signature)
• Repeat samples with several options to create loops
• Projects are interchangeable with our iOS version
• Export to other DAW's by rendering all tracks to separate audio files (stems)
• In short: a complete portable multitrack music studio that will replace your 4 track recorder or tape machine, almost for free!
---
Disclaimer:
This post is made only for educational purposes. All the images and information used in this post are collected from Google Play. Since freedom of speech is allowed in this fashion, we do not attend any kind of copyright infringing. If any owner of these Apps wants to remove their App information please feel free to contact us.
Final Words:
I hope our article about Best Audio Editor for Android helped you. If you have any kind of question please feel free to let us know. Thank you.